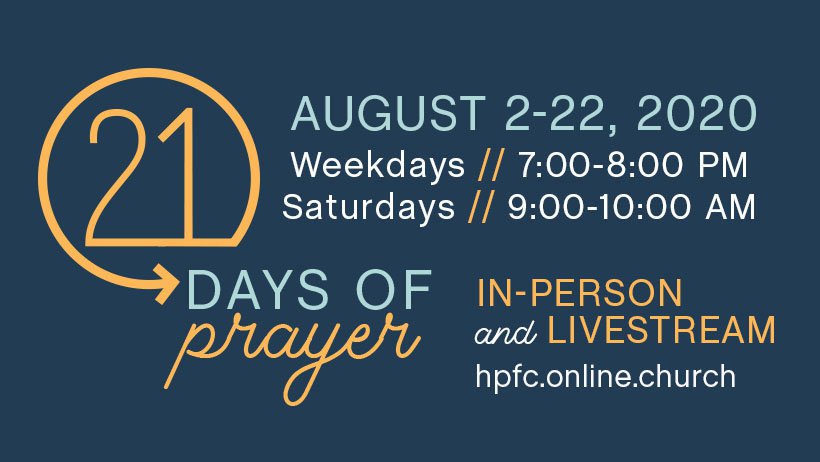 Prayer Strategy
In the first few years of HISplace, God impressed upon Pastor Doug's heart that "Increased prayer brings the necessary adjustments". We believe prayer is vital to the life of every Christ-follower and for our church to fulfill our assignment from God. We often say "Pray First".
So during each Small Group semester, we pray for the nation, community, our church, and the personal prayer needs of those in attendance. Groups are a great place to grow in prayer and receive prayer!
Also, each year we begin the year with 21 Days of Prayer and Fasting and then at the end of the summer we have another 21 Days of Prayer! We invite you to participate in our daily Prayer Gatherings during 21 Days of Prayer on weeknights from 7-8 PM and on Saturdays from 9-10 AM. Each gathering features a short devotional, worship, personal prayer/worship times, and corporate prayer at the end.
If you would like to incorporate fasting into the 21 Days of Prayer or at any time in your life, the information below may be helpful!
August 2-22, 2020 - Daily Prayer Targets
August Daily Prayer Targets
Day 1 – (Church service prayer)
Day 2 – Our Leaders – Nation, State, and City (1 Timothy 2:1-2)
Day 3 – Our Pastors, church leadership (staff, directors, coaches, captains) small group leaders, Dream Team, overseers, Dream team leaders
Day 4 – Our Nation – national missions (ARC), revival in America
Day 5 – Our City – Spring-Klein-Tomball-Woodlands-Houston, local missions, community outreach - break the code for our community, strong ongoing outreach team, good church participation; Schools - safety, wisdom for leaders, Godly leaders step up, growth in school-based ministries
Day 6 – Our World – international missions (missionaries, pastors' conferences), the Gospel in Israel
Day 7 – Worship
Day 8 – (Church service prayer)
Day 9 – Children and Students
Day 10 – HISplace 2020 vision – Big Four; develop leaders; building upgrades, finances, staff additions
Day 11 – Growth Track and Dream Team – leadership development, covering for leaders, fresh vision
Day 12 – Parents – to raise up children who would serve God for life; single-parent families
Day 13 – The Lost – services, family members, friends
Day 14 – Worship
Day 15 – (Church service prayer)
Day 16 – Marriages – healthy; communication; mentoring of others
Day 17 – Small Groups – leaders, members, real life change, more leaders, more groups, greater participation, greater connection with new church attenders
Day 18 – Personal vision for 2020 – freedom from habits, debt, greater relationships, impactful ministry, reach full potential
Day 19 – Personal freedom and deliverance – breakthrough in every area
Day 20 – Ask God to work in the young families with children in our community
Day 21 – Your specific needs (finances, health, family members to be saved and other personal needs.)
Fasting
The goal of fasting is draw closer to God. Biblical fasting is about eliminating distractions for a spiritual purpose. Fasting resets our soul and renews us from the inside out. Fasting also enables us to celebrate the goodness and mercy of God while we prepare our hearts for all the good things God desires to bring into our lives. Your personal fast should be a challenge for you, but it is very important to know your body, your options, and, most importantly, to seek God in prayer and follow the leading of the Holy Spirit.
Timing of a Fast
At HISplace, we encourage fasting for 21 days each year in the month of January. This is part of 21 Days of Prayer and Fasting, a season of focused prayer as a church family. You may also choose to fast at other times during the year for your own spiritual development. It's very typical to fast a single meal, a whole day, or three days or more. The timing of your fast is not as important as the strength of your focus on God as you fast.
Types of Fasts
COMPLETE FAST
In this type of fast, you drink only liquids, typically water with light juices as an option.
SELECTIVE FAST
This type of fast involves removing certain elements from your diet. One example of a selective fast is the Daniel Fast, during which you remove meat, sweets, and bread from your diet and consume water and juice for fluids and fruits and vegetables for food.
PARTIAL FAST
This fast is sometimes called the "Jewish Fast" and involves abstaining from eating any type of food in the morning and afternoon. This can either correlate to specific times of the day, such as 6:00 am to 3:00 pm, or from sunup to sundown.
SOUL FAST
This fast is a great option if you do not have much experience fasting food, have health issues that prevent you from fasting food, or if you wish to refocus certain areas of your life that are out of balance. For example, you might choose to stop using social media or watching television for the duration of the fast and then carefully bring that element back into your life in healthy doses at the conclusion of the fast.
Scripture references
Matthew 6:16-18
Matthew 9:14-15
Luke 18:9-14
Acts 27:33-37
Nehemiah 9:1-3
Resources on Fasting